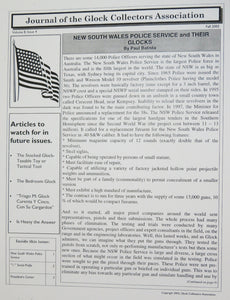 Reprint of the Journal of GLOCK Collectors Association Volume 8, Issue 4. In this Journal, first published by GCA in Fall, 2002, you will find articles on:
New South Wales Police Service and Their GLOCKs
There are some 14,000 Police Officers serving the state of New South Wales in I Australia. The winner was announced in July, 1997 and it was the GLOCK .40 S&W caliber pistol in the range of the standard G22 (for operational police), compact G23 (for part time tactical Police) and the sub-compact G27 (for plainclothes Police)...

GLOCK Frame Rail Problems
About all we at GCA know at the time this Journal goes to press is that GLOCK, Inc. has identified a potential problem in certain pistols produced between September 2001 and May 2002. An extremely small number of pistols have experienced slide rail separation. Apparently, when this very rare phenomenon occurs, one of the rear slide rails actually separates from the frame. Although there has been much speculation on the various "bulletin boards" and unofficial internet discussion rooms, I am not going to speculate as to the cause other than to simply say that GLOCK, Inc. has decided to offer a replacement receiver at no cost (other than shipping) upon request to any person whose pistol is affected...

"1-" Serial Prefixes
The GLOCK Corporation has identified a problem with a very small percentage of GLOCK pistols produced between September of 2001 and May of 2002. The specific problem that has been identified is the potential of breaking a rear frame rail in pistols manufactured during this time period. Within the specific range the breakage rate has been less than 0.0188%.