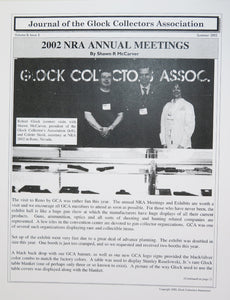 PDF reprint of the Journal of Glock Collectors Association Volume 8, Issue 3. In this Journal, first published by GCA in Summer, 2002, you will find articles on:
GCA at NRA Meetings and Exhibits

We were visited by a number of firearms industry notables. We are grateful to Robert GLOCK for taking time to walk over to the GCA booth and visit with us...
Engraved GLOCKs
Robert informs us that the engraving project is well underway. A customer can commission ANY design for embellishment of a GLOCK pistol. The only limitation is the depth of the customer's pocketbook. Robert told us that it takes an engraver between 250 to 300 hours to complete a custom engraving job...