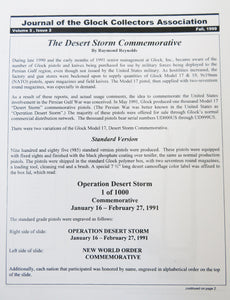 PDF reprint of the Journal of Glock Collectors Association Volume 5, Issue 1. In this Journal, first published by GCA in Spring, 1999, you will find articles on:
GLOCK Desert Storm Commemorative
During late 1990 and the early months of 1991 senior management at GLOCK, Inc., became aware of the number of GLOCK pistols and knives being purchased for use by military forces being deployed to the Persian Gulf region, even though not issued by the United States military. As hostilities increased, the factory and gun stores were beckoned upon to supply quantities of GLOCK Model 17 & 19, 9x19mm (NATO) pistols, spare magazines and field knives. The Model 17 pistol, then supplied with two-seventeen round magazines, was especially in demand...
GLOCK's 357 SIG Pistols: G31, G32 and G33
The
full size G31
is a
.357 SIG
variant of the .40 S&W caliber G22. The compact G32 is a .357 SIG variant of the G23. The subcompact G33 is a .357 SIG variant of the G27...
The Y2K GLOCK
I have to confess that I have always had a certain fascination with multi-caliber pistols and revolvers and the idea of a "kit" consisting of spare barrels and so forth always seems a "neat" idea. Recently, a friend and I were having one of our favorite discussions: "If you could only own 5 pistols what would they be?"...