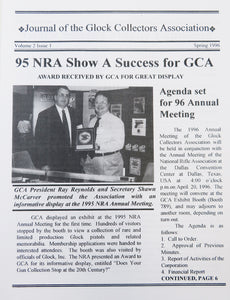 PDF reprint of the Journal of GLOCK Collectors Association Volume 2, Issue 1. This Journal was published by GCA in Spring 1996. Includes articles on:
The first official GLOCK Serial Numbers list (this evolved into the Matrix)
GLOCK Safeties Explained, Part 2
Thank you to Mr. Gaston Glock and GLOCK Inc. to allow the GCA use of the GLOCK logo
The STANDARD PRODUCTION MATRIX--what we GCA members call the MATRIX--is the most complete and official record of First Run Pistol Prefixes Shipped to the USA.