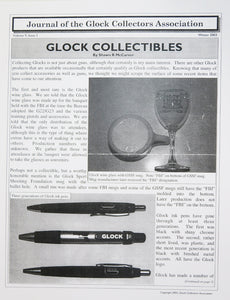 Reprint of the Journal of Glock Collectors Association Volume 9, Issue 1. In this Journal, first published by GCA in Winter, 2003, you will find articles on:
GLOCK Wine Glasses
We are told that the GLOCK wine glass was made up for the banquet held with the FBI at the time the Bureau adopted the G22 and G23 and the various training pistols and accessories. We are told that the only distribution of the GLOCK wine glass was to attendees, although this is the type of thing where extras have a way of making it out to others...
More On GLOCK Serial Numbers
In the past, GLOCK pistols with "US" as the last two digits in the serial number were so marked to indicate their sale in the so-called North American market Thus, we have had "US guns" and "non-US guns."...