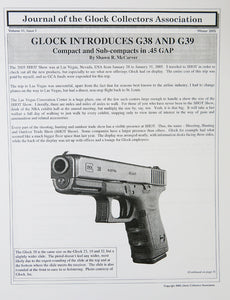 Reprint of the Journal of Glock Collectors Association Volume 11, Issue 1. In this Journal, first published by GCA in Winter 2005, you will find articles on:
Is the .45 GAP Accurate?
For many uses that the GLOCK pistol is put to this does not matter. Most people use their GLOCK pistols as personal defense weapons or shoot them in training programs that are keyed to personal defense. The targets there tend to be large, close, and come in packs so the lack of a fine trigger pull is not a major issue. But this typical use has managed to conceal something that many do not realize or believe when told to them, namely the GLOCK pistol seems to be inherently a very accurate weapon...

Why Shooters Love Their GLOCKs
I've used and carried SIGs and GLOCKs. I currently carry a GLOCK 19, but have more trigger time with a SIG than with a GLOCK. I carried a Sig on SWAT and put tens of thousands of rounds through it with no malfunctions--ever. I love the quality and ergonomics of the SIG as opposed to the GLOCK. However, I much prefer the GLOCK trigger system over the SIG, since you do not have the double action to single action transition. That, along with the size of the GLOCK 19 along with round capacity advantage as opposed to the SIG, is why I choose it. Both are superb weapons...
GLOCK Introduces the G38 and G39, Compact and Sub-compacts In .45 GAP
The GLOCK 38 is the same size as the GLOCK 23, GLOCK 19 and GLOCK 32, but a slightly wider slide. The pistol doesn't feel any wider, most likely due to the expert rounding of the slide at the top and at the bottom where the slide meets the receiver. The slide is also rounded at the front to ease in re-holstering.
The .45 GAP allows slightly better stopping power than the ACP cartridge and in a package with the comfort of the GLOCK 17 and GLOCK 22.