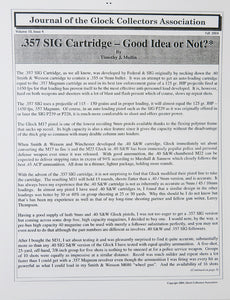 Reprint of the Journal of Glock Collectors Association Volume 10, Issue 4. In this Journal, first published by GCA in Fall 2004, you will find articles on:
GCA with Jim Cirillo and Jeff Cooper 
Famous Gunfighter & NYPD Stakeout Squad member Jim Cirillo and GCA President Shawn  McCarver prepare to discuss the modern technique of the pistol with the Gunner's guru, legend Jeff Cooper...
.357 SIG Cartridge -- Good Idea or Not?
The .357 SIG Cartridge, as we all know, was developed by Federal & SIG originally by necking down the .40 Smith & Wesson cartridge to contain a .355 or 9mm bullet. It was an attempt to get an auto-loading cartridge equal to the .357 Magnum cartridge as used in its best law enforcement guise of a 125 gr. JHP projectile fired at 1450 fps for that loading has proven itself to be the most effective anti-personnel load developed. It is, however, hard on both weapons and shooters with a lot of blast and flash present which of course, slows up repeat shots. The G31 is chambered in .357 SIG...