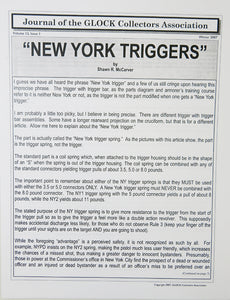 PDF reprint of the Journal of Glock Collectors Association Volume 13, Issue 1. In this Journal, first published by GCA in Winter 2007, you will find articles on:
New York Triggers

I guess we have all heard the phrase "New York trigger" and a few of us still cringe upon hearing this imprecise phrase. The stated purpose of the NY trigger spring is to give more resistance to the trigger from the start of the trigger pull so as to give the trigger a fell more like a double action revolver.
GLOCK Introduces The G21SF .45 Auto Short Frame Pistol
The new design, aptly named the GLOCK Model G21 SF (Short Frame) engineers a reduced trigger reach in the grip dimension along with an ambidextrous magazine catch. The G21SF also incorporates the GLOCK Standard Rail design or the new Picatinny Rail design allowing for the GLOCK Tactical Light to be used when needed.