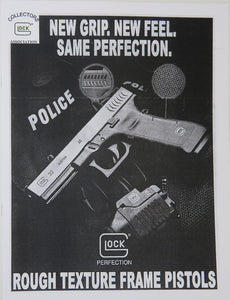 PDF reprint of the Journal of Glock Collectors Association Volume 16. In this Journal, first published by GCA in Fall-Winter, 2008, you will find articles on:
Model G19 Gen1 History and Serial Numbers
In March 1988, the first commercial run of one thousand GLOCK G19 Models was shipped in the United States. The G19 was the answer to making the GLOCK 17 a smaller, more compact version.
G-22 RTF "Rough Texture Frame"
GLOCK INC. is also going to introduce the G-22 RTF "Rough Texture Frame". This frame on the "grip section" is going to have a fine checkered inlay in the polymer and will have "finger grooves". The checkered on the "grip section" is like the back strap and front part of the grip section on most of your 1911 pistols. The fine checkering will be all around the "grip" and will enhance extreme grip. It is said extensive shooting will probably require a glove. This new "RTF" Rough Texture Frame" will follow up on .357 Auto models and what ever else Glock requires it on.
GLOCK on the Cheap 22 Conversion Kit
GLOCK has never introduced a 22 rimfire kit, but two of the best after market companies make such kits. Ciener makes a 22 conversion kit for the GLOCK. Advantage Arms also makes a kit for the GLOCK. Both work well - you may have to adjust ammo, as they may have preferences, but to the extent you get the occasional failure to feed or eject, it is good practice for your malfunction clearance drills.