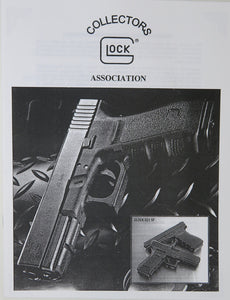 PDF reprint of the Journal of Glock Collectors Association Volume 14, Edition 1 and 2. In this Journal, first published by GCA in 2007, you will find articles on:
Model G17 History and Serial Numbers
A Modest Proposal Collecting GLOCKs
Rare G35C
In late 1985, Mr. Glock authorized the incorporation of GLOCK Inc. and exported five model 17 pistols to the United States for submission to the Bureau of Alcohol Tobacco and Firearms as sales samples. The serial numbers of the first five pistols imported for GLOCK Inc. are: AN0l 1 US, AN012US, AN013US, AN014US, AN015US.
WHAT MAKES A GLOCK COLLECTABLE?
This was one of the many questions GCA members manning the booth at the NRA show were asked. Looking at the above mentioned list of the GLOCKs displayed would give you a picture of their collect ability. The problem a lot of people have with the idea of collecting GLOCKs, is their relatively short time in the consumer market.