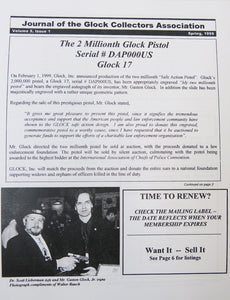 Reprint of the Journal of Glock Collectors Association Volume 5, Issue 1. In this Journal, first published by GCA in Spring, 1999, you will find articles on:
The 2 Millionth GLOCK Pistol: Serial #DAP000US, Glock G17
New Product Introductions:

GLOCK G36 Slimline Introduction
Comparison of G36 vs G19

GLOCK .45 ACP Models: G20 GEN2 and Model G30 Gen2 detailed evaluation and prefix serial numbers
The G21 is chambered in .45 ACP and is built on a similar frame as the GLOCK G20 chambered in 10mm. GLOCK pistols chambered in .45 ACP and .45 GAP feature octagonal polygonal rifling rather than the hexagonal rifling used for GLOCK's other models.