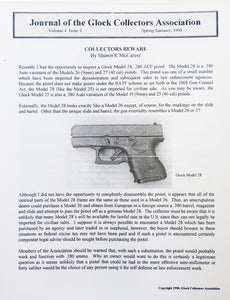 PDF reprint of the Journal of Glock Collectors Association Volume 4, Issue 1. In this Journal, first published by GCA in Spring/Summer, 1998, you will find articles on:
GLOCK Model G28 Comparison to G26 and G27
My First GSSF Match
GLOCK Model G19 Gen1, G19 Gen2, G19C Gen1, and G19 Gen2 detailed review and serial prefixes
New Products Introduced:

Model GLOCK G34 Debut
Model GLOCK G35 Debut
In 1998 GLOCK introduced the G34 in 9mm and the G35 in .40 S&W. These GLOCK pistols were marketed as "Practical/Tactical" pistols.
The G28 was designed for the European market and only imported into the U.S. for law enforcement. The G28 is chambered in .380 ACP and similar in size to a G26 and G27.