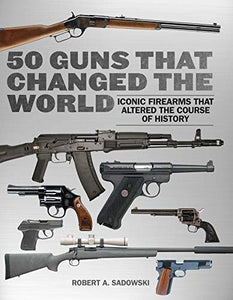 Some who have read this mini tome agree with me completely. With others I have had heated debates. You be the judge. Let me know your top 50 guns.
Autographed by author, Robert Sadowski.
World history has always been interwoven with developments in firearms technology and so is peppered with legendary guns. Since the invention of gunpowder, nations have raced to create more useful and powerful firearms with which to protect, conquer, and hunt. 50 Guns That Changed the World explores the most significant firearms from the past two hundred years, from deadly weapons of war to quaint plinking guns. Included are:

Winchester Model 1873
Colt 1911
Mauser Model 98
M1 Garand
Ruger 10/22
AK-47
AR-15
Benelli M2
Glock G17
Barrett 82A1

Discover the history, design details, operation, variants, and users of each firearm, illustrated with archival photography from the manufacturers and of the guns in action. Firearms enthusiasts, history buffs, hunters, and shooters will all find something to marvel at in this gorgeous full-color book.

Skyhorse Publishing is proud to publish a broad range of books for hunters and firearms enthusiasts. We publish books about shotguns, rifles, handguns, target shooting, gun collecting, self-defense, archery, ammunition, knives, gunsmithing, gun repair, and wilderness survival. We publish books on deer hunting, big game hunting, small game hunting, wing shooting, turkey hunting, deer stands, duck blinds, bowhunting, wing shooting, hunting dogs, and more. While not every title we publish becomes a New York Times bestseller or a national bestseller, we are committed to publishing books on subjects that are sometimes overlooked by other publishers and to authors whose work might not otherwise find a home.
Product details
Hardcover: 200 pages
Publisher: Skyhorse; Ill edition (September 15, 2015)
Language: English
ISBN-10: 1634504453
ISBN-13: 978-1634504454
Product Dimensions: 8.5 x 0.9 x 11 inches
Shipping Weight: 2.8 pounds

Average Customer Review:  92 customer reviews