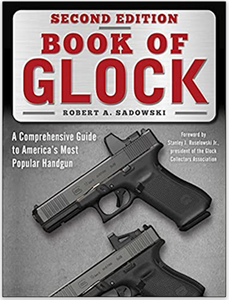 Book of Glock, Second Edition: A Comprehensive Guide to America's Most Popular Handgun

Autographed by the author, Robert Sadowski, and the President of the GCA, Stanley Ruselowski, Jr.
Now Available!
This Second Edition picks up where the last book left off. Complete and update on all GLOCK pistols model, more photos and content on rare and unique collectible GLOCKS, more custom GLOCKS —more GLOCK! here are some never before seen GLOCK in the Second Edition plus a whole lot more GLOCK!
The Book of Glock references all GLOCK pistols available in the United States with in-depth information on all models—history, serial numbers, rare GLOCK variants, comparative models, cutaway sales models, and more. Sadowski worked closely with Stanley Ruselowski, the president of the GLOCK Collectors Association, to bring readers information and photos of rarely seen GLOCKs. Each chapter is dedicated to a different model. Sadowski provides a timeline of the company's evolution and a close look at how GLOCK redefined the combat pistol. Other chapters touch on rare models, commemorative editions, and GLOCK tools and accessories. Whether a firearms collector or a new enthusiast, anyone can enjoy Sadowski's analysis of GLOCKs throughout history.
Product details
Paperback: 456 pages
Publisher: Skyhorse (April 4, 2023)
Language: English
ISBN-10:

1510774181

ISBN-13:

978-1510774186

Product Dimensions: 8 x 1.14 x 10.5 inches
Shipping Weight: 14.6 ounces