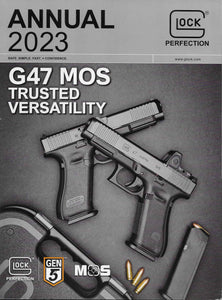 Get a new copy of the 2023 GLOCK Annual. You can't get these magazines on newsstands so get yours while supplies last.

Free Shipping!
New 2023 GLOCK Annual magazine pack with over 90 pages of content devoted to GLOCK pistols. Here's a sample of what you can expect:
LETTER FROM MR. GLOCK
GLOCK PERFECTION YESTERDAY, TODAY AND TOMORROW                                             
NEW GLOCK 47 MOS 
GLOCK'S MOST VERSATILE PISTOL
PERFECTION ENHANCED:
GLOCK'S PERFORMANCE TRIGGER            

GEN5 EXPANSION

ESSENTIAL NEXT STEPS TO OWNING A FIREARM

HISTORY OF GSSF

GSSF:
THE PERFECT FORUM FOR NEW SHOOTERS            

RANGE BAG NECESSITIES FOR GSSF

FIREARMS IN THE HOME

SAFETY AT HOME

SENIORS SEND THE SHOTS
THE BIG FREEZE
SHOULD YOU CONCEAL CARRY?
GLOCK:
IDEAL DESIGN FOR VERSATILITY

GLOCK G43X:
CARRY SMALL, AIM BIG

GLOCK SLIMLINE PERFECTION
DOCS WITH GLOCKS
GLOCK MOS TORTUE TEST
WE ARE GLCOK STRONG
TRIBUTE TO CARL WALTER
GLOCK LEADS THE WAY
Law Enforcement Section
GLOCK IN LAW ENFORCEMENT
REFLEX SIGHTS FOR LAW ENFORCEMENT

GLOCK HELPING FEMALE OFFICERS EXCEL

INTERNATIONAL GLOCKS
JORDANIAN SPECIAL ROYAL GUARDS
And a whole lot more!